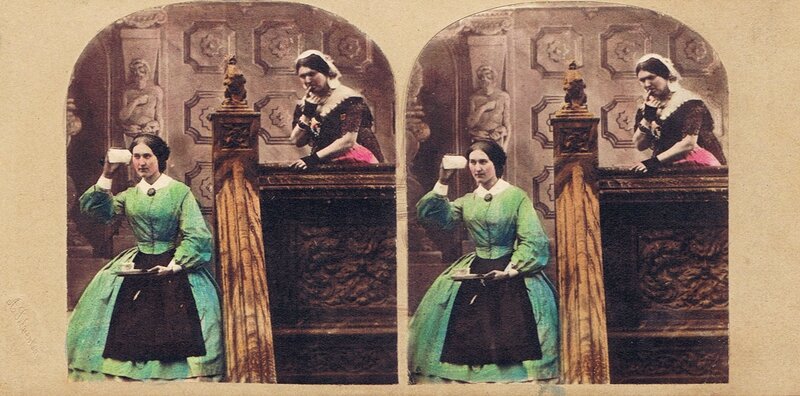 "Caught In The Act !", par Alfred Silvester, vers 1860 (collection J. Calvelo)
Il est aujourd'hui plus facile de tomber sur des vues stéréoscopiques du Londonien Alfred Silvester que sur la moindre information le concernant. Les musées ayant conservé des images dans leurs collections ne semblent pas beaucoup mieux informés que les collectionneurs privés. Quant aux recherches sur la Toile, elles sont plutôt décevantes.
"New Omnibus Regulation", par Alfred Silvester, ca 1860. (Coll. J. Calvelo)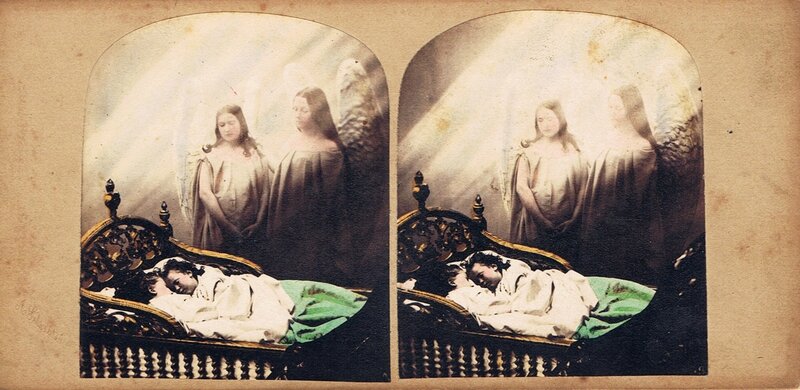 "Guardian Angels", par Alfred Silvester, vers 1860 (collection J. Calvelo)
Les données sur le photographe qu'il m'a été possible d'y recueillir se limitent à de (chétives) mentions dans la presse des années 1850 ou 1860 :
• Une petite annonce (probablement financée par le photographe lui-même) dans l'Illustrated London News du 5 décembre 1857 qualifiant les "Silvester's Groups" de "Superior Stereoscopic Pictures".
• Une autre, dans l'édition américaine du Blackwood's Edinburgh Magazine, en 1859, pour Wiley & Halsted, un marchand américain de Broadway, distribuant les "Eliot's (sic) et Silvester's celebrated English groups". L'annonce précise le nombre de sketches que chaque photographe propose aux amateurs : 100 pour Elliott et 80 por Silvester.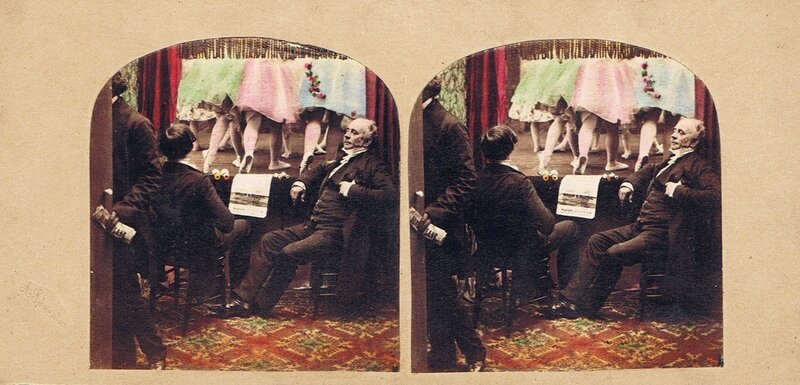 "Stage Box", par Alfred Silvester, vers 1860 (collection J. Calvelo)
• L'enregistrement d'un brevet, le 10 mai 1864, pour un appareil permettant certains effets théâtraux, très certainement liés aux mises en scènes que le photographe échafaudait en studio. (« An improved apparatus for obtaining certain theatrical effects, 10th May 1864 », in Subject-Matter Index of Patents Applied For and Patents Granted For the Year 1864, by Bennett Woodcroft, London 1866, page 267.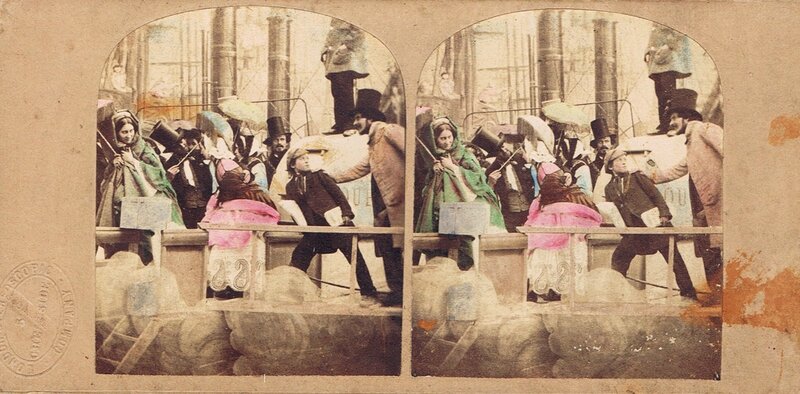 "Starting for Boulogne", par Alfred Silvester, vers 1860 (collection J. Calvelo)
"Affectionate Husband : Come. Polly — if I am a little irritable, it's over in a minute !!", par Alfred Silvester,
vers 1860 (collection J. Calvelo) : Une stéréo qui illustre la violence conjugale, comme l'indiquent, par antiphrase,
le titre de la vue ("Un mari affectueux") et le mobilier brisé qui jonche le sol. Pour rendre justice à la réalité
(car c'en est une, souvent inavouée), d'autres "fictions" stéréoscopiques ont mis en scène
des autocrates en robe longue, exerçant leur violence sur des maris terrorisés.


• Le 13 août 1860, Silvester réclame une sorte de "droit de réponse" à la suite d'un article comportant des allusions à des activités "immorales" dans la production photographique (entendez, vraisemblablement, des "nus"), mais sans nommer l'opérateur concerné. Ayant son studio dans le même quartier de Londres que le photographe mis en cause, et s'estimant potentiellement "diffamé", Alfred Silvester écrit donc au journal :
Photographic News, August 17, 1860, page 192 :
IMMORAL PHOTOGRAPHS.
Dear Sir,
In the last number of tho "Photographic News" appeared a notice headed "Immoral Photographs," in which is stated there are two establishments at which those indecent pictures are taken : one at Kentish Town, and the other at Clapham.
I have never heard of any establishment but mine in Clapham ; and as I do nothing in the immoral way, I will thank you to rectify the mistake, as it is likely to do me a very serious injury.
Yours, respectfully, Alfred Silvester.
Stereoscopic Studio, 8, New Dorset Place, Clapham Road,
August 13th, 1860.
Réponse des éditeurs des Photographic News :
[The circumstance that Mr. Silvester has not heard of another establishment in his neighbourhood does not prove that none exists. We need hardly say that the parties engaged in the infamous traffic which our correspondent "x" has exposed do not court public observation. We are sure that no allusion was intended to be made to Mr. Silvester's establishment, which we believe to be a highly respectable one.]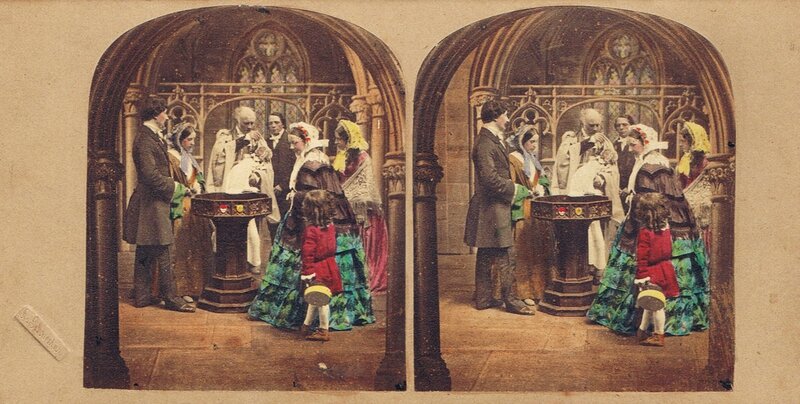 Un baptême (christening) par Alfred Silvester, vers 1860 (collection J. Calvelo)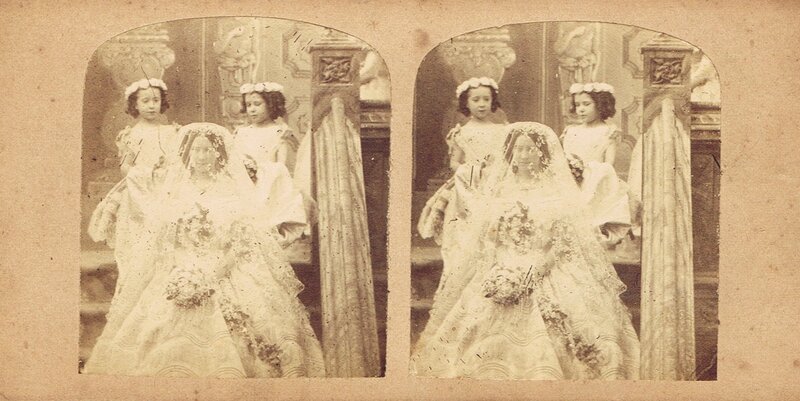 Une jeune mariée avec ses demoiselles d'honneur, par Alfred Silvester, vers 1860 (collection J. Calvelo)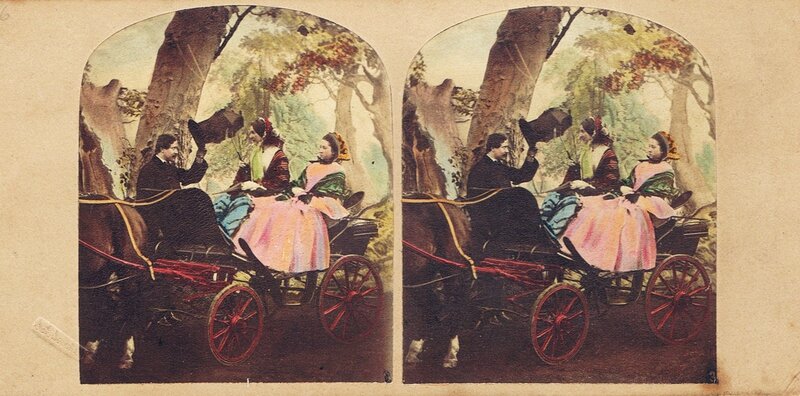 "The Morning Drive", par Alfred Silvester, vers 1860 (collection J. Calvelo)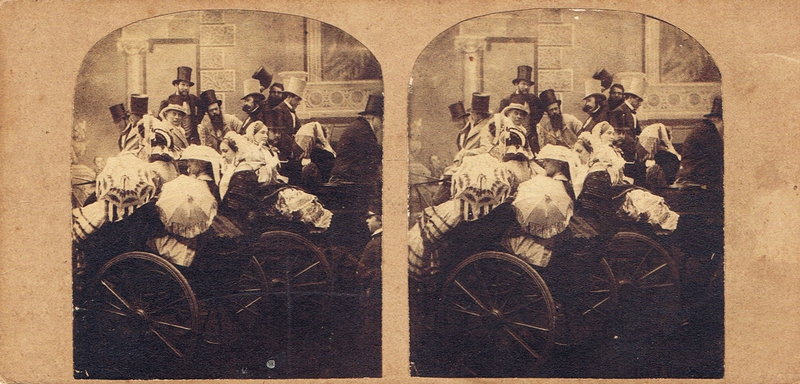 "National Sports", par Alfred Silvester, vers 1860 (collection J. Calvelo)